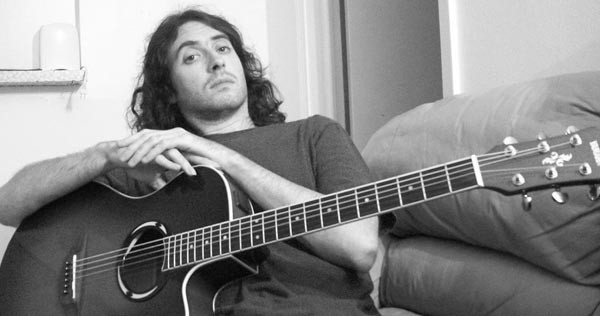 I was born in the city of Ramos Mejía, Buenos Aires, Argentina and lived in the city of San Justo for many years until I moved to the United States in 2010.
Always interested in arts, I spent my childhood singing, inventing melodies and lyrics, improvising in family reunions and simulating playing piano on my mother's sewing machine (that machine has a furniture similar to a little piano). When I was 8 years old I started piano lessons. The Beatles were my major influence at the time. In those years my grandfather gave me a cassette with music of the great guitar player Oscar Alemán. Listen to this great guitar player made me want to play jazz and blues. At the same time I listened to Eric Clapton and I became interested in rock music so I started to play guitar.
After several years of self taught in rock and blues guitar technique and learning from Eric Clapton, B. B. King, Santana, Led Zeppelin, Oscar Alemán and The Beatles records, in 1996 I got into the Conservatorio de Musica Alberto Ginastera where I studied classical guitar with Silvina Elijovich and composition with composers Jorge Sad, Claudio Schulkin, counterpoint with Marcelo De Matteis, orchestration with Rodolfo Daluisio and many more. All of them, great people and teachers. I learned a lot from them and I will always be grateful for that.
At the same time I got two bachelor degrees, a Bachelor degree in Advertising and another one in Communication Sciences. I wrote a thesis about Music in Advertising in 2002. I've been teaching semiotics as an university professor for several years.
My first rock band was created in 1992 with my neighborhood friends. The band was called Aspirina (Aspirin). I first played keyboards. There are some demos that left documentation about that first band, recorded in 1994 where I played lead guitar and bass guitar (Some day I will upload those, I still have a copy).
In those years I played rock, blues, hard rock and heavy metal and trash metal. (…trash metal, it didn't work for me. I mean, it was fun for a while but I get bored quickly. It is not my kind of music to perform. I enjoy it as a listener though).
My way of thinking about music changed when I listened to Frank Zappa's albums Grand Wazoo and Waka-Jawaka and the Miles Davis record, Bitches Brew. Those records, blew my mind forever!
In 2004 I started the Composition career at the conservatory. I write contemporary music, chamber music, guitar, piano, sound design, electronics, etc. I mix different techniques most of them learned from my contemporary composition professor, the Argentinian composer Jorge Sad.
Some of my early piano preludes were played by my friend, the Argentinian pianist and composer, Emiliana Prčik.
Since 2000 I've been playing in several jazz, fusion, blues and rock bands, playing in festivals, clubs, pubs and radio stations around Buenos Aires and since 2010 in The United States.
In 2005 I finished my first piano suite: "Suite 1 – Danzas para un mundo diferente ó El paseo del loco". (Dance for a different world or The ride of the madman) Copyright © 2005 Pablo Fedele.
I started to teach guitar to private students the same year.
In 2006 I was invited to create a jazz and fusion band with my friend, the bass player Gabriel Sinigalli, and with piano player Javier Schirmo, drums players Franco Poletti and Leandro Parma. The band had different names as Polos Opuestos and Quadratum. They made some demos and played in some small theaters and pubs. You can find some excerpts of my solos with the band in the music section of the website.
In 2007/2008 I was invited to play in the first solo record of Argentinian songwriter and musician Mathias Zanga, and recorded 6 of the 9 tracks of the album "Carcel de rehenes". From 2007 to 2010 I played for the Mathias Zanga's band presenting the album in several places and radio stations. In 2009 I played some jazz with my friend, Argentinian singer, composer and piano player Magalí Cortez.
In 2010 I moved to the United States and now I'm working on new music, contemporary compositions, songwriting and instrumental jazz, rock and blues.
I'm open to commissions and collaborations with artists of any discipline. You can get in contact with me trough the website or any of the social media. In addition, I teach private guitar and piano lessons and I'm also a guitar professor at the Aventura Music Institute in Florida.
I'm also available for recordings session, live concerts and touring as I musician. As long as the music you do is great for me, you just have to tell me when, where and I'll be there with my guitar, ready to play.